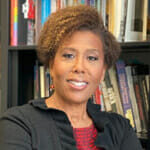 Ava Thompson Greenwell, Ph.D.
Faculty Coach, Professor, School of Journalism, Media, Integrated Marketing Communications, Northwestern University
Ava is a faculty and leadership coach with more than 25 years of experience in higher education. Drawing upon nearly a decade of experience as an on-air news reporter, she brings a keen awareness of communication and presentation skills. In addition, she helps her clients to build capacity for results-oriented growth and effective impact as they face new challenges.
Ava leads a new faculty mentorship program at Northwestern University and addresses some of the unique challenges and opportunities facing women and faculty of color, particularly around microaggressions. She earned her coaching certification through Coach Training EDU. In addition to teaching, she has held several administrative posts, including associate dean for curriculum, department chair, and co-curator for the nationally recognized Ida B. Wells award.
Ava's research focuses on the intersection of race and gender, specifically black women broadcast journalists. Her recent book, Leading Ladies: The Black Women Who Control Television News, was selected for the 2021 National Association of Black Journalists Author's Showcase. In early 2021, she debuted her first documentary called "Mandela in Chicago," a film about the city's anti-apartheid leaders who worked for Nelson Mandela's release and celebrated his 1993 visit to the Windy City.
Ava holds both a Ph.D. in African American Studies and a master's degree in broadcast journalism from Northwestern University. She currently serves as co-director of the South Africa Journalism Residency Program at the Medill School of Journalism, Media, Integrated Marketing Communications at Northwestern University.