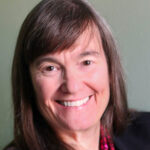 Leadership Coach
In higher education for 30 years, Susan brings a passion to her work for supporting people and designing and implementing effective processes, all striving toward an equity-minded perspective. Her goal is to synthesize best practices and approaches to help shift 21st century higher education toward becoming equitable and inclusive.
Before serving in higher education administration, Susan taught with an equity-minded pedagogy for 16 years in women's studies and psychology. She has been actively committed to anti-racism, systemic change in the academy for over a decade. Decades of reflection, training, and application have laid the foundation for her ongoing commitment to working with others to create institutional-level change toward equity and inclusion via an anti-racism lens. In addition to coaching, she has worked closely with Academic Impressions and her colleague, Maria Thompson, to develop and provide equity and inclusion-focused programming for historically marginalized job candidates. Susan is also passionate about leadership development for all who wish to grow their ability to be more equitable and inclusive.
She served in leadership as a department chair, associate provost, dean, and provost. Her portfolios have included not only academic colleges and departments but also areas that overlap with student success. A seasoned administrator who is a teacher at heart, Susan welcomes the opportunity to share her learnings with new and aspiring leaders, particularly those historically marginalized and everyone who wants to move into positions in which they can influence institutional-level change toward equity. She is committed to helping all to find a good fit, to find positions that will allow them to thrive, encourage their optimism, and support their vision for new possibilities.
Susan earned her Ph.D. and M.Ed. in Counseling Psychology from the University of Houston and her B.A. in Plan II (Honors Program) from the University of Texas-Austin. She has worked at regional comprehensive universities in both large and small state systems, including some that are unionized, and at a private religious university.