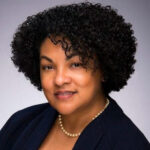 President and CEO, Retired, Coppin State University
Maria is a career educator whose work experience spans a variety of institutional categories, including research universities, comprehensive universities, land-grant universities, urban-located, rural-located, HBCUs, and PWIs. She served as president and CEO of Coppin State University (CSU) and was the first woman to be installed as president. Before her appointment at CSU, she was provost and vice president for academic affairs at the State University of New York (SUNY) at Oneonta, the first African American in the role. She served as vice president for research and sponsored programs at Tennessee State University (TSU), the first woman to serve as chief research officer at the institution. She served as principal investigator on numerous grants. She received millions in federal funding for scientific research, facilities construction, and educational projects from the National Science Foundation, National Institutes of Health, Air Force Office of Scientific Research, Department of Energy, and the National Geospatial-Intelligence Agency.
Maria brings insights gained through first-hand knowledge from breaking barriers in leadership roles in higher education to her coaching practice. She is an experienced coach who works with clients who aspire to be deans, vice presidents, provosts, and presidents. In addition to coaching, she has worked closely with Academic Impressions and her colleague, Susan Turell, to develop and provide equity and inclusion-focused programming for historically marginalized job candidates and leadership development for all who wish to grow their ability to be more equitable and inclusive.
During her 30-year career, she focused on developing sustainable, institution-wide strategic and tactical plans to attract and retain historically marginalized faculty and students, with an emphasis on creating opportunities for them to participate in research. She led efforts that supported faculty in submitting proposals for external funding, publishing in peer-reviewed journals, and participating in research development activities. Recognizing that traditional student success metrics penalize campuses that serve significant numbers of historically marginalized students, she advocates for more equitable student success metrics.
She earned a Bachelor of Science from Tennessee State University, a Master of Science from The Ohio State University, and a doctorate from the University of Tennessee.