Leading as a Man of Color in Higher Education
Learn key strategies for success
in leadership as a man of color.
Overview
Men of color who aspire to leadership roles often encounter microaggressions, isolation, uncertainty as to where to find allies, and frustration when unconscious bias of colleagues shows up in the workplace. In this 2-hour discussion, Myron Pope, Vice President of Student Life at the University of Alabama, will share his strategies for building relationships, navigating politics, and mitigating the impacts of microaggressions to strengthen your position as a leader and influencer in higher ed.
Agenda
Aspiring and current leaders at all levels from across all areas of higher ed who are men of color will benefit from this training.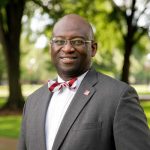 Myron earned three degrees from the University of Alabama and is a native of Sweet Water, Alabama. He returned to UA in 2020 after a distinguished higher education career in Oklahoma. He served in student affairs and enrollment management roles at the University of Central Oklahoma, including 14 years in vice president positions.