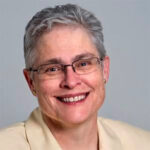 Leadership Coach, President Emerita, Clarion University
Throughout her 40-year career in higher education, Dr. Karen Whitney has held a variety of executive and leadership positions with increasing levels of responsibility, beginning as a Director to Associate Vice President, Vice-Chancellor, President, and Chancellor. Karen is also a nationally recognized organizational and leadership development writer, speaker, consultant, and advisor. She periodically serves as an interim executive for colleges and universities. Karen holds a doctorate from the University of Texas at Austin in Higher Education Administration and is a certified coach through the Center for Executive Coaching.
Karen currently serves as Interim Chancellor for the University of Illinois, Springfield (UIS). UIS is a highly recognized public regional master's university and is one of three universities in the University of Illinois System. UIS serves approximately 4,000 students, employs 800, and has an annual operating budget of $163 million. Previously has served as Interim Chancellor for the Pennsylvania State System of Higher Education (PASSHE), providing strategic leadership to a 14-university system serving over 100,000 students and employing more than 12,000 faculty and staff with a $2.3 billion annual operating budget.
Karen served as President of Clarion University, a large public master's comprehensive university, for seven years. During this time, she led the university through a period of great operational challenge and change, including a transformational reorganization of colleges, departments, and academic priorities. Most notably, she focused the university as a leader in offering innovative professional programs in business, education, and health and human services.
Karen also has extensive leadership experience at different types of institutions. She served as Vice Chancellor for Student Life at Indiana University Purdue University Indianapolis (IUPUI). She also held leadership positions at the University of Texas at San Antonio (UTSA) and the University of Houston. She held clinical appointments in teaching from the Indiana University School of Education.
After a very accomplished career as a leader and executive in higher education, Karen is now passionately focused on working with other leaders, executives, and board members to ensure their success in service to their students and institutions. She advocates for courageous, confident equity-minded leadership that is needed now more than ever in higher education, particularly since the challenges and threats to leadership success seem to be increasing. In working with every leader to succeed, Karen's approach combines a proven track record of higher education leadership with various engagement approaches, including advising, coaching, facilitating, and training. Drawing on her vast experience at every leadership level, she customizes an individual structured process to ensure each leader achieves their highest professional and institutional priorities.