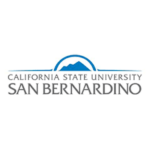 Website California State University, San Bernardino
Admissions Counselor (Student Services Professional IB), Enrollment Management
California State University, San Bernardino
Job No: 518285
Work type: Staff
Categories: Unit 4 – APC – Academic Professionals of California, Probationary, Full Time, Counselor (Non-instructional Faculty)
About CSUSB
California State University, San Bernardino is a preeminent center of intellectual and cultural activity in Inland Southern California. Opened in 1965 and set at the foothills of the beautiful San Bernardino Mountains, the university serves more than 20,000 students each year and graduates about 4,000 students annually. CSUSB reflects the dynamic diversity of the region and has the most diverse student population of any university in the Inland Empire. Seventy percent of those who graduate are the first in their families to do so.
At CSUSB, you can:
• Build your future
• Work with the best
• Be your authentic self
• Focus on you
• Make a lasting impact
• Work for a purpose that is greater than your own
• Bring everything you are, become everything you want
Department Summary
The Office of Admissions Operations and Systems at CSUSB is responsible for facilitating the processing, review, and evaluation of all undergraduate applicants to the University for each open term. California State University, San Bernardino receives over 24,000 applications each year and supports applicants, high schools, school districts, and community colleges with the resources needed to successfully apply and transition to campus.
Job Summary
Under the general supervision of the Director, Admissions Operations in collaboration with the Evaluations Lead, this position is responsible for counseling applicants, their families and communicating with High School and Community College counselors and the general public by providing accurate information regarding admissions policies and procedures. The incumbent will review and support applicants for extended and global education programs and will assist in the review of applications, appeals, and supporting documents relevant to admissions decisions for extended education and general admissions applicants.
Application Evaluation:
• Responsible for reviewing and analyzing transcripts and other basic records of applicants to determine eligibility requirements; including but not limited to specific course requirements and specific GPA requirements depending on the major the student has applied for to the University.
• Employee is expected to be accurate when reviewing documents for GPA calculations, transferrable courses, etc. and to enter the admissions decisions and other pertinent information into the PeopleSoft system.
• Employee must have an understanding of CSU requirements, possess the ability to meet goals in a timely manner and work well under pressure.
• Employee will meet with students to discuss admissions eligibility issues in relation to impacted major and eligibility guidance, provide pre-admission counseling to prospective students and customer service to students on a continuous basis in person, on the telephone, and electronically.
Special Program Evaluation:
• Review and coordinate for special programs: bachelor's degree completion, extended and global education.
• Review transcripts and work with processing unit to enter extended and global education applications to CSUSB. Evaluate students' transcripts and process application and enrollment for all program start terms Fall and Spring terms.
Workshops/Presentations and Student Appointments:
• Present on application steps and stages to audiences, assists in scheduling and staffing application workshops, shares information on updates to the application system and works with leadership to identify changes to the application and transcript process that needs to be shares with campus and community constituents.
• Regularly conduct admission and pre-admission appointments with prospective students and applicants regarding admission eligibility. Cover both First-Year and Upper Division Transfer CSU student requirements.
• Other job-related duties as assigned.
Application Deadline
• Application Review Deadline: This position will remain open until filled. Applications will be reviewed beginning December 21, 2022.
Work Schedule
Monday through Friday from 8:00 am to 5:00 pm, weekends and evenings may be required.
Key Qualifications
• Working knowledge of the methods and problems of organization and program management; research and interviewing techniques; principles of individual and group behavior; the ability to rapidly acquire such knowledge of the organization, procedures and activities of the specific campus to which the position is assigned; and the basic principles, practices and major trends in the Student Services field to which assigned.
• Ability to rapidly acquire a working knowledge of the specific objectives of the campus Student Services program and its relationship to the total campus operation; interpret and apply program rules and regulations; gather and analyze data; reason logically, draw valid conclusions and make appropriate recommendations; present clear and concise information orally and in written reports; and establish and maintain cooperative working relationships with faculty, CSU administrators, student organizations and other private and public agencies.
Education and Experience
• Equivalent to graduation from a four-year college or university in one of the behavioral sciences, public or business administration or a job-related field.
• Additional specialized experience during which the applicant has acquired and successfully applied the knowledge and abilities may be substituted for the required education on a year for year basis.
• Equivalent of one year of experience in professional Student Services work at the entry trainee level. Equivalent amounts of graduate level job related education may be substituted for the required experience.
Preferred Qualifications
• Equivalent to a Bachelor's degree from an accredited four year college or university.
• Experience in the analysis and application of academic regulations and procedures related to admissions.
• Experience involving detailed work, including mathematical computations that require a high degree of accuracy.
• Familiarity with online resources (i.e., College Source, AACRAO and Assist) and the Common Management System (CMS) or other student administration data system.
• Experience working in a high production environment.
• Demonstrated ability to communicate with students, staff and others regarding admission requirements, policies and procedures and promote a "student friendly service" image of Enrollment Management.
• Demonstrated ability to learn and apply complex unit, department and campus policies and procedures.
• Equivalent to one year of experience related to academic records evaluation required.
• Ability to communicate with an ethnically and culturally diverse campus community. Ability to follow all university policies, procedures, and guidelines including but not limited to safety, civility, information security, and non-discrimination policies and procedures. Ability to contribute to a positive university experience for each and every student.
Salary:
Anticipated Hiring Rate: $3,796 Per Month
Classification Salary Range: $3,796 – $5,369 Per Month
Statement of Commitment to Diversity
In our commitment to the furthering of knowledge and fulfilling our educational mission, California State University, San Bernardino seeks a campus climate that welcomes, celebrates, and promotes respect for the entire variety of human experience. In our commitment to diversity, we welcome people from all backgrounds, and we seek to include knowledge and values from many cultures in the curriculum and extra-curricular life of the campus community. Our commitment to work toward an environment that values diversity requires that we create, promote, and maintain activities and programs which further our understanding of individual and group diversity. We will also develop and communicate policies and promote values which discourage intolerance and discrimination.
The concept and dimensions of diversity are to be advanced and incorporated into every aspect of university activity, including student life, the curriculum, teaching, programs, staffing, personnel training practices, research, community services, events, and all other areas of university endeavor.
Dimensions of diversity shall include, but are not limited to, the following: race, ethnicity, religious belief, sexual orientation, sex, gender identity, gender expression, ability, socioeconomic status, cultural orientation, national origin, and age.
The implementation of the Commitment to Diversity will rest with the university as a whole. The president, in addition to a personal commitment and involvement, may use the University Diversity Committee, campus administrators, faculty, staff, and students as well as other members of the campus community to implement effectively the philosophy and intent of this statement.
Supplemental Information
A background check (including a criminal records check) must be completed satisfactorily before any candidate can be offered a position with the CSU. Failure to satisfactorily complete the background check may affect the application status of applicants or continued employment of current CSU employees who apply for the position.
The person holding this position is considered a `mandated reporter' under the California Child Abuse and Neglect Reporting Act and is required to comply with the requirements set forth in CSU Executive Order 1083 as a condition of employment.
California State University, San Bernardino is an Affirmative Action/Equal Opportunity Employer. We consider qualified applicants for employment without regard to race, religion, color, national origin, ancestry, age, sex, gender, gender identity, gender expression, sexual orientation, genetic information, medical condition, disability, marital status, or protected veteran status.
This position may be "Designated" under California State University's Conflict of Interest Code. This would require the filing of a Statement of Economic Interest on an annual basis and the completion of training within 6 months of assuming office and every 2 years thereafter. Visit the Human Resources Conflict of Interest webpage link for additional information: http://hrd.csusb.edu/conflictInterest.htmlThis position adheres to CSU policies against Sex Discrimination, Sexual Harassment, and Sexual Violence, including Domestic Violence, Dating Violence, and Stalking. This requires completion of Sexual Violence Prevention Training within 6 months of assuming employment and on a two-year basis thereafter. (Executive Order 1096)
To view full description and to apply, visit: https://apptrkr.com/3707113
Copyright ©2022 Jobelephant.com Inc. All rights reserved.
jeid-ab5575ff251c40488ca8adb67d9fb13b